Singer1981
Member
Posts 148
Fredonia, NY USA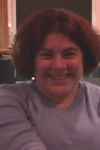 0

posted

2000-03-15

12:08 PM
---
I don't know if this is actually a poem...or more inane babbling...it started out rhyming...and then went into free verse..it's also kind of two different themes...let's just say it's been awhile.

I don't understand why you can't see
How much I want you to want me
How could you not see the jealous looks I give you?
Can you even hear the emotion in my voice when I call?
Do you know much it hurt the other night?
When you left me, your friend, all alone.
Jealousy and anguish cut through me like a knife
Knowing that you were taking her, not me, home.
Can't you see how amazing you are?
And how can make someone feel?
You deserve so much better than her
I'm not saying that I'm best for you, but at least better
I see you for who you are, not what you look like.
Your personality the sweetest I've ever known
Your intelligence astounding
Your smile with the ability to melt me
Your voice, so melodious, sending shiver down my spine
And of course, your looks do make the package complete
The epitomy of perfection
Or maybe I have you so high on a pedastol, it's all in my head.

DragonFang
Senior Member
Posts 522
Missouri, USA
1

posted

2000-03-15

12:37 PM
---
ah, nice poem. I like it. Heh, that expresses infatuation so well, or perhaps it is something else... anywho, love the poem, keep up the good work.<!signature-->

"Sa souvraya niende missian ye." I am lost in my own mind.