Tamma



Senior Member
Posts 794
In His Arms, Harpers Ferry, WV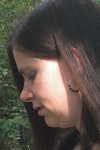 0

posted

2000-02-19

08:48 PM
---
Two years today,
I gave in to you.

And then, you left me behind,
I wasn't what you wanted.

I wasn't what you expected,
I was much to plain for you.

It's been two years since,
I gave up something special.

A part of me,
I wish I had.

It's gone, nowhere to be found,
I gave it to you, but I shouldn't have.

Now in my life,
Pain is all you are.

Running out of words,
To describe my pain.

I thought you were "the one",
I now see I was wrong.

You get mad every time I say goodbye,
If you want me in your life, you'd treat me better.

Two years of my life,
Wasted on something like you.




[This message has been edited by Tamma (edited 02-21-2000).]
Danny Holloway
Member Elite
Posts 2034
Tulsa, OK
1

posted

2000-02-21

01:18 PM
---
Tamma, life is a tough lesson, no doubt. Not all those we trust are worthy of our trust and deception is everywhere. If it weren't for the tough lessons we wouldn't grow and know when were making a wrong turn.
The really special "something" is the person you are. Never stop believing that.
and keeping writing!
Danny

Paul Hoekman
Member
Posts 382
Harwinton Ct. U>S>A>
2

posted

2000-03-01

12:27 PM
---
Oh I feel your Pain
Tamma
And wish I could take it all away.
tough lesson but by what I read
you are a tough girl and time will
heal all along with the Grace Of God.
I can tell that someone who can
put down their feelings like this
can surely pick up their spirits as well.
Please look at the mans heart first next time.