Falling rain



Member Elite
Posts 2178
Small town, Illinois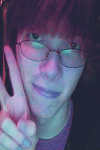 0

posted

2010-03-14

12:02 PM
---
Okay so the title has no relation towards this poem. This poem are just random thoughts that make no sense. Enjoy? (But really I only wanted to write the first and fourth stanza)

-----------------------------------------
I've said it too much
My lips are chapped and voice strain
I'd explain more how much its really killing
But your absent and attention's waned

Tell me if I'm going overboard
Is it too far fetch to think like me
See through what I'd had to go through
Or is it unrealistic like any dream?

to you

Do you understand, comprehend
Fathom the very fears I cling to
Does it bother you when I cry
Or is it something meaningless; like you

Tell me, since you know so much
Do I want to answer your call?
If I get better from where I am
Would I be ready for the next fall?