beowulf_26
Member
Posts 183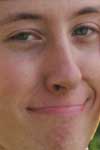 0

posted

1999-09-09

07:40 PM
---
I run through the feilds.
Naked.
No exterior host or inhibitions.
My soul exposed.
I marvel at the world.
Looking through rose glasses it refreshing.
An innocence lost, I have found.
A delight in being vulnerable.
Not a delight the sadistic get from the fear of losing.
But the ecstacy of knowing you won't let go.
That I'm safe with you.

Thank you for releasing me.

Alwye
Member Elite
Posts 3850
In the space between moments
1

posted

1999-09-11

01:40 AM
---
Wow, beautiful and powerful. I enjoyed your word usage immensly. Keep it up!



------------------
*Krista Knutson*

Mockery is a form of ignorance; silence, a form of wisdom. -- Daniel L. Miller