Temptress
Member Rara Avis
Posts 7136
Mobile, AL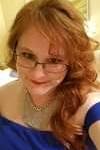 0

posted

2000-07-29

11:34 PM
---
It was almost magical the way the night settled. At least it would have been had I believed in magic. You were standing there gripping your suitcase as I came nearer to tears with the approach of your eyes. Days had passed since our last talk, and I wondered if you remembered the effect of your voice on mine. It trembled and thickened with each passionate word and image. You told me you loved me, my Sweet, and I believed you because I wanted you then. I believed, because I needed the touch of your fingers on my warm skin. I relished the thought of your lips probing and demanding upon my own. We searched for love sometimes in a moment's worth of heat. I wanted to see the tears you claimed to cry nightly. You confessed of urgency and random images while your dreams caressed my silhouette.

Breath to breath we shattered the silence of the distant line. Night by forbidden night, we breathlessly carried each other's names on wanton whispers.

Some would laugh at our foolishness. I laugh only out of bitterness for selfish needs and the belief that you could truly have been mine. As I look back I often wonder what I went in search of those times. The storms heavily carpeted my life then, and the words served their purpose well. Did I ever really know where we were going?

Today you still remain the driving force behind these thoughts. You are the navigator in my walk of submission to the the deepest parts of my normally shy self. Now I may profit well from knowing my demons. Should I thank you for that?

Dramatically I played the Queen of Hearts, and was knowingly tested for the part of seductress.

<!signature-->

Nothing can deter a poet, for he is actuated by pure love. Who can predict his comings and goings? "Thoreau"


AVANTI
Senior Member
Posts 664
INDIA/MAHARASHTRA/PUNE
1

posted

2000-07-30

12:23 PM
---
very intresting writing...
"very" well written
<!signature-->

If all was light...then I would have never learnt the dark...from which such truth evolves
from which evolves the light...
Avanti Rao