OLIAS
Senior Member
Posts 1090
Pearl city Iowa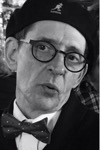 0

posted

2005-12-20

01:05 PM
---

I Believe

Some say there is no Santa,
but I think, that I believe,
not in some rotund, jolly man,
who toils on Christmas Eve,
who wears a suit of velvet red,
and brings you gifts while in your bed,
No, Santa Claus is not the guy,
who taught his reindeer how to fly.

Santa Claus is you and me,
the gifts we bear, our ability,
to be loving and giving,
or careless, unkind,
to instigate anger, or give peace of mind,
Santa is family and friends, I have found,
who deliver invisible gifts, all year round,
laughter and kinship, a shoulder to cry,
that is the magic, that makes our reindeer fly,
It's easier to see a sleigh, flying above
than to believe simply, that Santa is love.



Marge Tindal




Member Empyrean
Posts 42384
Florida's Foreverly Shores
1

posted

2005-12-21

11:09 PM
---
OLIAS~
What a perfectly delightful uplifting penning~

*Huglets*

~*Marge*~
<!signature-->

~*No matter what I search for ...
let me know when it is LOVE that I find*~ <))><

Email - noles1@totcon.com
Mysteria







Member Laureate
Posts 18328
British Columbia, Canada
2

posted

2005-12-21

11:44 PM
---
Well now, I believe you are absolutely right! Merry Christmas to you.
Joyce Johnson


Member Rara Avis
Posts 9912
Washington State
3

posted

2005-12-22

11:56 PM
---
Right on. How nice, we can all be Santa at any time of year. Nice reading. Joyce