Tamma



Senior Member
Posts 794
In His Arms, Harpers Ferry, WV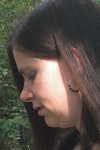 0

posted

2000-01-20

02:05 PM
---
Theres a reason why I prefer a black rose to any other,
Red represents romance,
And pink is love,
Why would I want a rose that represents something I don't have?
The vase has been empty since hes been gone,
Not even a black rose has left its mark on it.
Romance is gone,
Love has left me to die.
The black rose represents something I do have,
A hidden love, that even he doesn't know about.
I've tried to give him signs,
I even wore a pink rose to his party…



Oo0ostephanio0oO
Member
Posts 194
Massachusetts ~USA~
1

posted

2000-01-20

06:15 PM
---
Red roses are my favorite kind of flower, but I feel what you're feeling right now. You're not alone.

<!signature-->

(:***Stephani***:)
"A true friend will always stay a friend
whether or not you feel as though the friendship or relationship is about to end."



Jer
Member
Posts 443
USA
2

posted

2000-01-21

05:49 PM
---
Wow.... Tamma! Such a powerful writing! I must say... this was quite impressive. I wish you luck with that guy but, if it helps you any, I'm not doing so great in the Love Dept. myself!