Singer1981
Member
Posts 148
Fredonia, NY USA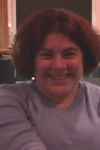 0

posted

2000-04-04

11:19 PM
---
Who are you really
The face behind the name
The one I spill my guts to
From who I hide no shame

The voice I long to hear
Just once so I can know
Who it is I'm talking to
And what feelin his voice may show

All emotion is lost on me
As the words flash across the screen
I know no intent of their feeling
No sure idea of what they mean

Do you remember everything you hear?
Each thought, each dream I share
Do you truly want to know?
Do you truly care?

Can a friendship really start
Before we've even met
Will one day you turn on me
Is this something I'll regret

If one day we chance to meet
Will you still be my friend
I do hope that you'll keep your vow
And be there til the end.