Tamma



Senior Member
Posts 794
In His Arms, Harpers Ferry, WV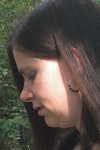 0

posted

2000-03-03

03:44 PM
---
An eagle flying high above,
Just soaring, looking for his love.

A free spirit looking for more,
Hes not just looking for a score.

Friends first is his #1 rule,
I learned when he was in school.

Our love continued to grow,
We were unable to let is show.

I was taken, so was he,
Never a thought of just we.

Until I looked in his eyes one great day,
I knew the love wouldn't fade away.

An eagle flying high above,
just soaring, looking for his love...

<!signature-->

(if ya ever wanna chat, you can IM me on AOL: sexikitticat -or- pom16pom)


Danny Holloway
Member Elite
Posts 2034
Tulsa, OK
1

posted

2000-03-04

11:56 AM
---
Tamma, this peom has nice rhyme. Nice to know there are Eagles out there, and that one has found you.
Nice work.
Danny Holloway
Member Elite
Posts 2034
Tulsa, OK
2

posted

2000-03-07

11:21 AM
---
This poem has such a nice uplifting tone that I think it deserves to be sent back to the top. So many of the poems in this Forum are about lies and hurt, it just so nice to see one like this that says that friendship is important and should come before other serious things.
Hold on, up we go!!!!