MorningStar
Member
Posts 290
Pittsburgh, Pa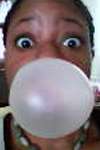 0

posted

2009-11-08

12:32 PM
---

No matter how much I wanted to object to your treatment of me
the words died a silent death on my tongue
After all, how does one oppose rejection?

Even when I wanted to protest - to scream out in defense of myself
The words were shut up in my throat
dammed by pride and self preservation
What else did I have?

If only I could have told you, told someone - anyone
I am worthy....
I am
But they wouldn't escape
those words that were my justification

In silent agony I waited
for the pain to turn to anger
then the anger into hate
then hate into
nothing

Knowing all the while that
those words - the ones that dammed my throat
the ones that could have salvage what had been between us
could have defended me
my heart
my worth

Those words
They wouldn't have been enough anyway...
<!signature-->

If I don't say it...who will?