beowulf_26
Member
Posts 183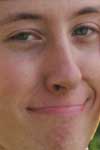 0

posted

1999-09-13

09:16 PM
---

There was a time I held myself at fault.
For the actions of others and the pain they caused.

No more.

I used to bite my tounge
and obstain from objection,
Looking only to please.

No more.

I hid the pain and painted the smile.
"And all shall call you stolid."

No more.

No more will i aquiesce my identity.

I am unique.
No more Mr. Nice Guy.