Alwye
Member Elite
Posts 3850
In the space between moments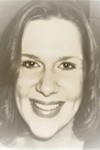 0

posted

1999-07-27

02:54 AM
---
Oh how the mournful wind cries through embittered heavens of gray,
And pearlized tears fall to frozen isles in a tragic array.
The iced over seas are long forgotten, emptied of vivid light,
A ghostly image, void of even the small comforts of night.

Souls lay entombed within dampened cellars of crumbling stone,
How horrific it is when a one must wade through sadness alone.
Not even pale beams of moonlight can pierce the shrouds of darkness,
It is a painfully hopeless sight, an image I shall never miss.

Infused with brilliantly shimmering waves of honest love,
My walls were shattered, letting bliss seep in from up above.
Wrapped within silken wings of pulsating silvery white,
With you I drifted through misty clouds in a spellbound flight.

My taunting demons are closed from your soft, feathery embrace,
And oh, how I tremble as with shaking fingers I caress your face.
Fate must think me a jewel to deliver an angel into my weary arms,
For that is truly what you are, my mystic guardian from harm.

Always I could gaze into the pools of your enchanting aqua eyes,
And each time that you smile I know for you I would gladly die.
Etched with in my eternal soul a simple phrase rings so true,
That my love is everlasting, and my love is forever with you.

------------------
*Krista Knutson*

"I will sail my vessel 'till the river runs dry, like a bird upon the wind, these waters are my sky..." Garth Brooks


Angel
Senior Member
Posts 551
Pennsylvania
1

posted

1999-08-05

01:20 PM
---
Wow, that may very well be the best poem I have ever read. Do you mind if I put it in my personal collection if I put your name on it? That touched me personally more than any poem I have ever read, it was absolutely amazing. Ever since I joined here, you are the one poet who's work I always looked for. You are so very talented and I love all your work. I only wish that someday I can be as talented with words as you. Thank you for sharing your wonderful talent with us.



------------------
People who throw kisses are hopelessly lazy.
-Bob Hope


Alwye
Member Elite
Posts 3850
In the space between moments
2

posted

1999-08-05

09:58 PM
---
You may certainly put it in your collection, Angel. Your words mean the world to me, thank you very much for your praise.



------------------
*Krista Knutson*

"Your kiss upon my face feels like a brush with grace, baby thats all it takes to take me higher..." SHeDaisy