Alicat
Member Elite
Posts 4094
Coastal Texas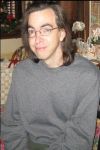 0

posted

2001-12-07

01:30 PM
---
Howdy all! Well, next weekend I'll be building my second system. The first one, which I'm currently using, will get 128 more RAM and will go to the kids after a reformat and reinstall (to clear out junk). The other one will go to their mom. Now, I know AT boards are out, but I had a spare tower with 250W power supply and didn't feel like buying a new one. So....Gigabyte 6VA7+ MB, Maxtor 40GB HD, 2 256 PNY RAM modules, Creative Audigy SC, Cambridge Inspire 5.1 speakers, PNY nVidia GeForce2 MX400 AGP VC, Pentium III 733Mhz 133FSB FCPGA, Logitech Optical Mouse, Win98 KB, Creative 52X CD-ROM, cpu fan, case fan, slot fan (gets hot in summer here in the desert), and, if it's compatible, LS120 floppy drive. So far, I've got the pieces/parts except for the CPU, which should be here Monday, and a second monitor. We're going to look at 17" rebuilds on Friday.

I gotta tell ya, I love doing this stuff, and can't wait till next Saturday. I'm waiting till then so that I can show Pat (kids' mom) how to install components, cables, and jumpers. And, by having her do most of the actual installations, she'll gain confidence for under-the-hood work. When I built her first system in March, she was afraid to even take the cover off.



Thanks for letting me share this, even though I know it's not a hardware question or problem.

Alicat the persnikitty<!signature-->

"It is not the strongest of the species that survive, nor the most
intelligent, but the one most responsive to change."  Charles Darwin



Nicole
Senior Member
Posts 1835
Florida
1

posted

2001-12-07

01:49 PM
---
Sounds like a lovely afternoon to me! Love it -

Ron
Member Rara Avis
Posts 8669
Michigan, US
2

posted

2001-12-07

04:30 PM
---
LOL.

The very first class I taught (was it really four years ago, now?) was a 15-week, one semester course on Computer Literacy at a local community college. Every week, in addition to the software we were exploring, I would bring in a different component, pass it around the room, and we'd all talk about what it did, how it did it, and what kind of alternatives might work. At the end of the class, when everyone assured me they understood, the component was ceremoniously sent to our "history" box.

The last class, a very cold and snowy December night, I dumped our history box in the middle of the table and, much to everyone's surprise, started called people's names. One after another, they would trudge to the table amid a few jeers and more than a few groans. Three hours later, we had a working, running computer.