jjote
Senior Member
Posts 1088
Ontario, Canada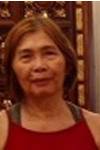 0

posted

2003-01-02

06:25 PM
---
Is this forum still open for entries on the holiday theme? Anyways, you can delete this Ms/Mr Moderator.


Shy maiden, she covered earth's face
with her white raiment,
delicate and frosty soft.

One night while no one was watching.
and the kids were tucked in bed,
on the wings of a chill wind
she unfolded her flake petals,
strewing them, all over
roofs and gardens and highways.

She might as well have been Santa
climbing down a chimney,
surreptitious, with cat's stealthy foot
treading quietly in the dark.

Did she wish to wrap the earth
in a gift package of white,
surprise every child in the morning
to an invitation to play?

But the chill wind got stronger
swept off her night garment
mercilessly, tore it into puny shreds.

Bravely, she struggled to hide
some tiny clumps of flakes,
scattered them over bare bushes
and empty backyards.

And the kids woke up to find her
lying faint but dazzling.
Though she melted at their touch,
too soft to roll into a ball,
she was fondled and loved.


Nan
Member Seraphic
Posts 21191
Cape Cod Massachusetts USA
1

posted

2003-01-16

01:25 PM
---
You've used some nice imagery here, jjote... I've come to see this entry in comparison to your Workshop post... I like this format - nice metaphors and use of personfiication indeed...

SPIRIT
Senior Member
Posts 1745
California Desert
2

posted

2003-02-21

07:18 PM
---
I've never been in this forum before, but what a treat I found. This is lovely.<!signature-->

I be me BUT who does me be?