Holly
Member
Posts 127
Arkansas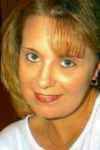 0

posted

2000-05-30

09:11 PM
---
Hey there..I'm just curious how do I upload my pic file into my profile? I have looked and looked for info on this subject but for some reason my profile screen isn't showing this option...or I just keep over looking it. Either way...I need help! Please???

Thanks,

-Holly

<!signature-->

I know well what I am fleeing from but not what I am in search of.
Michel de Montaigne

Nan
Member Seraphic
Posts 21191
Cape Cod Massachusetts USA
1

posted

2000-05-31

07:43 AM
---
Hi Holly
This function has been temporarily disabled, and will be back up and running very soon - with the new software updates... Just a little patience, and you'll find it again..