beowulf_26
Member
Posts 183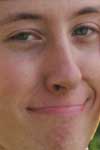 0

posted

1999-07-18

11:54 PM
---
Today I learned of humility
Of ignorance in "love".
I use the term loosely
Or at least I did.

Given freely as
Front lawn flyers.
Given in good faith yet,
Worthless.

A self-inflicted euphoria
Obstructing reality.
When will I learn?

That I'm truly a virgin in truth
and a whore of words.