Alwye
Member Elite
Posts 3850
In the space between moments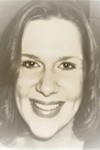 0

posted

1999-06-16

01:57 AM
---
Tiny tendrils of a silver mist swirl and flow,
Sunlight streams and jungle of flowers grow.
Delicate sprites dance on the breeze,
And treasures of gold rest on translucent leaves.

Ribbons of rainfall cascade in the glen,
Unicorns prance and play just around the bend.
Mountains of clouds tumble all around,
And butterflies flit and flutter, heaven bound.

Elfin folk reminisce of time passed long ago,
While wizards and mages reveal the magic they know.
Castles of crystals stand upon hills of green,
And great warriors tell of all they have seen.

Princesses wander, beautiful pearls of grace,
While shining princes persue them, in thrill of the chase.
Dragons of wisdom silently stand,
And are the guardians over this sacred land.

A world of mystery, a land so great,
Filled with kindness, devoid of hate.
A place of love, of treasures unseen,
This is my world, my land of dreams.
Nimrod the Hunter
Member
Posts 60
1

posted

1999-06-16

11:36 AM
---
Very good usage of words, Alwye. I wonder if you will be writing a book someday?

------------------
Nimrod the Hunter