Alwye
Member Elite
Posts 3850
In the space between moments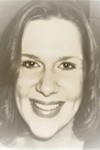 0

posted

1999-06-16

01:52 AM
---

In the blackest of midnights he dwells,
Entombed by his demons, lost in his hells.
No one can touch him nor even draw near,
For he is imprisioned by his sorrow and fear.


Then from afar, someone came,
A soft, brilliant light that whispered his name.
The purest of souls, a stark contrast to his own,
And she broke down his walls and into him her light shown.


Her powerful love cradled his heart,
And mended the soul that had once been shredded apart.
Out of the depths of despair he arose,
For she had vanquished his greatest of woes.


He thought she was a saint, and angel from above,
Who had come to rescue him with her glorious love.
She then whispered that this was not true,
That they were soulmates, this she knew.


He then gathered her into his arms,
And promised to love her and keep her from harm.
For she had saved him in his darkest of nights,
And flooded his soul with compassion and light.
invertigo18
Member
Posts 53
Prairieville, LA., USA
1

posted

1999-06-16

06:35 PM
---
That was really cool and wonderfully written. I wish I had that much of a vocabulary!



------------------
Luke Cakalic