beowulf_26
Member
Posts 183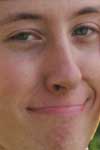 0

posted

1999-06-29

11:17 PM
---
For two weeks now I have loved
And yet I've loved much longer.
Everymoment I think of her,
My love for her grows stronger.
But what is love or what I feel?
Is it a self created notion?
By pondering now I think not.
My love's as strongs as the oceans.
Nay, the oceans are'nt as strong as proclaimed.
They will not last forever.
Even after the fall of the world,
My love can not be severed.
And upon my love reading this rhyme
May she know she's loved throughout all time.


Artic Wind
Member Rara Avis
Posts 8080
Realm of Supernatural
1

posted

2007-11-14

05:37 PM
---
Enjoyed

ARCTIC WIND