Sudhir Iyer
Member Rara Avis
since 04-26-2000
Posts 7206
Mumbai, India : now in Belgium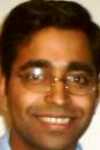 | | |
| --- | --- |
| 0 posted 05-16-2000 02:03 PM | |
---
This is the second attempt at Jeffery and Lone Wolf's challenge. Truly, everytime I wonder about the topic, I realize how many more directions I can explore.

Thanks a lot in advance for your comments. I am looking forward to what you think about this one...

-----------
Distant Horizon - The promise of today and the hope of tomorrow

Visionary tired eyes,
Looking at broad daylight,
Searching for truth amongst lies,
Life shone past like a flashlight.

He, my father, a revered seer,
Looked wildly into empty distance,
In every sense, a peer,
Viewing with unperturbed nonchalance.

Strength of mind and thought,
So many mental battles he had fought,
All the challenges he had sought,
To me, so many lessons he had taught.

Seeking a meaning, fresher than before,
He looked far beyond the horizon,
To me, an onlooker, this appeared to be an empty gaze,
The unsaid fact was he could out-stare the sun.

I now spend each day wondering,
Of a new way to emulate him,
So far his strength is proving,
He is wise way beyond the brim.

But till the end of life I will try,
Myself, pondering staring the empty gaze,
Even if I fail, I will never cry,
Will be one day, when I will amaze.

The future to be does beckon,
As I often, to myself, do reckon,
He stands there as my guide,
Stargazing at the horizon wide.

One day in life, I will be there,
I promise this to my soul,
The day truth separates from the lies,
I always believe time flies…

One day, in the distant horizon,
Will look for me, my son,
For motivation, inner strength, he will stare,
Asking my shadow, how he could be a diamond rare.

Then I will speak to him with all my love and care,
Being a rare diamond should not be his sole goal,
Motive should be to be sincere and fair,
Fate will then naturally mould, sculpture his life's role.

---------

P.S. I hope to come up with a few more atleast...


<!signature-->

Life is like a painting,
That in an art gallery is left hanging,
Though many come just to look at it,
A very few actually come to enjoy it.