Local Rebel
Member Ascendant
since 12-21-1999
Posts 5742
Southern Abstentia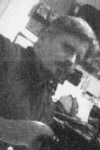 | | |
| --- | --- |
| 0 posted 11-30-2000 11:52 AM | |
---
From the Night Hawke News Service:

TALLAHASSEE (NHNS) -- Vice-President Al Gore and Texas Governor George W. Bush were treated and released from Tallahassee Memorial Hospital for minor injuries incurred during what was apparently a duel with pistols conducted in the early morning hours. Senator Bob Dole of Kansas was admitted and is still in surgery. Democratic strategist and consultant James Carville had apparently brokered the event as a means to settle the disputed 25 electoral votes in Florida.

An unidentified informant has said the two presidential candidates met at dawn with Senator Bob Dole acting as second to Bush and former Massachusetts Gov. Michael S. Dukakis as second to Gore. U.S. Supreme court Justice Antonin Scalia officiated the contest.

Doctors at Tallahassee Memorial reported Vice-President Al Gore is in good condition after receiving a minor abrasion from a bullet across his upper right arm. 'We cleaned it and put a band-aid on it' said Dr. Vince Normal who then reported that Gov. Bush had not required emergency room care, 'He basically fainted and bumped his head -- he should be fine.'

Doctor Normal reported Senator Dole is in satisfactory condition after removing a bullet, apparently fired from Vice-President Gore's pistol, from the Senator's foot.

'President Clinton gave me the go ahead. He said he'd grant a full pardon to the winner.' Said Carville on CNN earlier today. 'Mary and I regularly have duels to settle disputes at home'. Carville is married to former President George Bush's campaign strategist and Political Commentator Mary Matalin.

The question of Florida's 25 Electoral College votes ostensibly remains gridlocked.