azblond
Senior Member
since 07-01-99
Posts 651
The Steamy Desert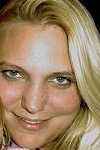 | | |
| --- | --- |
| 0 posted 07-02-99 11:54 PM | |
---
My Two Loves

I love two men, but so different they are
One is my hero, one my falling star
The first is so gentle and loving and bright
The second, he never says anything right.

One man in my life is witty and charming
His eyes are seductive, his smile disarming
His words are as sweet as strawberry wine
He makes me so happy to call him mine.

The other, he laughs and teases me so
He says words in jest and lets them go
He staggers around with a glazed look
He counts on me to get him off the hook.

With man number one the kisses are tender
Man number two, who wants to remember
The first, he speaks straight to my soul
The second, I follow where he must go.

The first man always mends my heart
After the second has torn it apart
He dries my tears and softens my cries
After I've handled the second ones lies.

So you must be asking why do I hold on
To man number two when the first is so strong
The answer sometimes fills me with shame
I love them both… for they are one and the same.




------------------
Let my words fall first upon deaf ears before a closed mind...