Sven



Member Laureate
since 11-23-1999
Posts 15611
Lansing, MI USA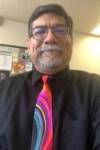 | | |
| --- | --- |
| 0 posted 09-27-2001 12:22 PM | |
---
My Goddess Series will take up my next 1,000 posts (from 11,000 to 12,000).

In this series, I'm going to take a look at the Goddess in many of her aspects, and in many of her names. As you can see, I've already covered a number of traditions with what I've done so far. From Oshun of Africa, to the Roman Diana, the Goddess exists in many forms and in many stories.

Currently, the poems are taking the shape of prayers to the Goddess in question. In each prayer, I've tried to relate some of the aspects of each Goddess, as well as a little bit of the stories and lessons that they pass on to us from their various traditions. As the series goes along, I will expand on that and do some "Mini-series" within the larger Goddess Series.

Right now, there will be 3 of these Mini-series. The first one will deal with Goddesses of Poetry, Writing and Creativity, the second one will be "Voices of the Goddess", and the third one will be "Interludes".

"Voices of the Goddess" will be an attempt to give a selection of Goddesses, chosen and suggested by members of Passions, a contemporary voice. If we could talk to these Goddesses today, in the flesh, what would they say? How would they feel about the world? Would they wonder why they have been forgotten and cast aside by those that followed them and their teachings? How would they feel about those that have taken up their cause today?

The "Interludes", of which "The Three Priestesses" is the first, will be a set of reflections based on the series as a whole. Sort of like "meditative responses" to the stories I've told and the things that I've learned.

The Goddess Series is also part of my ongoing growth, both spiritually and as a Poet. It's a way for me to explore another part of myself. To ask some questions, and hopefully, to find some answers.

I was inspired to write this series because of my 11,000th post. The thought just came to me that I should write a Goddess poem (that poem was Dedication, my 11,000th post.) After I wrote that, the thought that I should write an entire series of these just would not go away. So, listening to my inner voice, I began to collect stories and did as much research as I could into names of the various Goddesses from the various traditions of history and from various peoples of the world. This has been most satisfying and has given me a great degree of pleasure. The stories are wonderful, and the lessons that they teach are equally as wonderful.

So, there you have it. I decided to make this "note" for all of you so that you would know where my inspiration came from, and to give you an idea of what to expect. It's always fun to see where the writer gets his ideas, and I hope that you've enjoyed this little trip into my mind. I also hope that you will enjoy reading this series as much as I will (and already have) enjoy bringing it to you.

If there's a Goddess that you'd like to see me write about, or, if you've got a suggestion for the "Voices of the Goddess" series, just e-mail me, or find the "Voices Challenge" post in the Poetry Challenge forum.

Thank you.



---------------------------------------------------------------------------------
<!signature-->

To the world, you may only be one person. But to one person, you may be the world.