Michael
Moderator
Member Ascendant
since 08-13-99
Posts 6333
California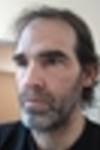 | | |
| --- | --- |
| 0 posted 09-05-99 03:30 AM | |
---
DRIFTING

Like the ripples in the water
From a stone thrown to the sea.
Images of a life with you
Drift away to memory.

While the point of origin
Lies as vapid as a tomb.
The mystery of the golden key
Which unlocks this doorless room.

Where I hold high my lantern to the sky,
But can never seem to see -
Outside the painted windows
Of self-inflicted misery.

Where love may come and love may go,
But love may never stay.
Within the catacombs of twisted hope,
Where abandoned embraces lay.

An empty echo bouncing silently
Off the mirror, a hollowed soul.
In backwards glance, one lone, lost chance
To make a broken life seem whole.