Temptress
Moderator
Member Rara Avis
since 06-15-99
Posts 7276
Mobile, AL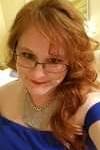 | | |
| --- | --- |
| 0 posted 10-04-1999 06:20 PM | |
---
Candles glow as they force,
Their shadows and prismic patterns,
Upon the walls of a small imprisonment.
Sitting beneath the scent of vanilla wax,
She tentatively pulls the words,
From the fragile jewel encasing,
Of an antique imagination,
Feeling each shriek,
Of long dead hinges on a heavy heart.
Worn fingers,
Grasping at the threads,
Sweating the adornment of pearl like thoughts.
In mindless ecstacy,
She tends her garden of imagination,
Creating a wall with tendrils of ivy control.
Selfishly smiling while concealing a feast,
From the starving wretches who crave words.
Offering only window dressing,
She hides so that no one may know.
Damn her,
Her hiding place is within me,
And she never comes out to play.

~~~~~~~~~~~~~~~~~~~~~~~~~~~~~~~~~~~~~~~~~

Okay, I started this with a bad sort of mood, but it ended like this. It is still written of an angry mood, so I will leave it here unless our moderator sees fit to removeit and place it elsewhere. (or sees fit for me to do that task instead)
Make what you will of it everyone. I am just ranting and releasing clutter as of late.