tapper798
Member
since 07-20-2003
Posts 352
My own world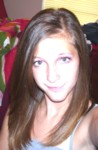 | | |
| --- | --- |
| 0 posted 08-20-2006 02:00 PM | |
---
Iím trying to get over youÖtrying to get over your touch,
Trying to get over everything that always meant so much.

Iím trying to forget youÖ Itís easier than to remember,
Cause then I have to think of you, and who knows all that hinders.

Iím trying to make myself see that we canít ever be that way,
You may come back but I have to know exactly what I will say.

Iíve tried so many times and Iím down left and scattered,
Itíd be so easy to go on pretending that it all never mattered.

But it did matter, even when so many things went wrong,
Thatís why I have to tough it up and learn how to be strong.

Your words and your smile have had me hypnotized,
So much that I ignored all the signs, I ignored all the lies.

Youíll never understand what all I feel for you,
And thatís the reason why I know what I have to do.

You have to see what youíre missing, see what you couldíve had,
You have to see what Iím worth, and how you gave it up for the next teenage fad.

Donít take your regrets and your broken wishes out on me,
Just because I showed you what you lost through all that I can be.

-Erin
<!signature-->

myspace username-beautiful_tragidy
I just want to find my way back to you...where love is strong and feels brand new.