EagleScorpion
Senior Member
since 03-08-2000
Posts 1705
Here, Now, Forever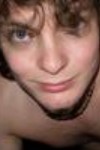 | | |
| --- | --- |
| 0 posted 12-25-2004 12:55 PM | |
---

It was a white christmas eve,
with two feet on the ground,
I was getting tired,
the night winding down,
Dad cleaning his guns on his brown leather chair,
Cleaning every barrel with such loving care,
When up on the roof, we heard a loud smash!
I think that Santa must have slipped on his ass!
My dad jumped at this noise, and looked very worried,
And loaded his 12-gauge in a frenzied flurry!
He ran out the front door into icy winter,
Wearing nothing but bathrobe and some bunny slippers,
He looked up at our roof through the thick falling snow,
And spotted something staring at him below,
Who was this person? He just didn't know,
I think through the wind I heard "Ho Ho Ho Ho",
Regardless, my father, he didn't like burglars,
He stumbled through snow in half drunken fervor,
With shotgun in hand, he slowly took aim,
He shot the intruder who then tripped on the drain,
And screamed, and flailed, off the roof to the ground,
with a muffled "plop!", such an awful sound,
My father, he cheered at his victory shot,
But I then noticed,
this robber we saw,
was no robber at all..

I stepped into the snow, and on to the body,
and learned that my father had been pretty naughty!
He was dead all right, that shot did the trick,
To end the long life of good old Saint Nick!

Now that he's dead, no presents will come,
Since my gun-nut father.. he chose to be dumb,
To all those poor children who now cry thier tears,
I want you to know that it all happened here,
On the roof of my house in old Wichitaw,
Came the untimely end, to poor Santa Claus!
<!signature-->

CONFUCIOUS SAY: YOU STAND ON TOILET, YOU HIGH ON POT!