mytuesdaywishes
Member
since 09-05-2003
Posts 257
a voice from the musicbox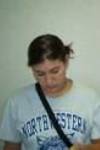 | | |
| --- | --- |
| 0 posted 01-20-2004 05:55 PM | |
---
two of us dead and standing
up you said, get up
days are not for sleeping
i said i think you're mistaken
and you gave me that look
and i think we've had long enough to heal
but is there anything left anyway

every now and then
you give me glimpses
of you
in satiny sincerity
the kind we had in love
the kind we fought for
and swore we'd never give up

the drums are playing
destroying the smears of tragic warmth
in this place
and sometimes late at night
i see you in the streetlamp flicker
where for a moment
i would sacrifice my dignity again
so that you would know me

two of us dead and standing
im still a foot shorter or so
and a year less mature
though my birthday always comes before yours
you said let it go where it wants to go
but i followed it
with a magnifying glass
making mountains out of molehills
when our hearts would clash

two of us dead and standing
you're stronger when i'm leaning on you anyway
two of us dead and standing<!signature-->

joy has its own justice. and dreams are languid and lawless. and everything bows to beauty, when it's fierce and when it's flawless...