Tequilia_Sunrise
Senior Member
since 02-19-2003
[First Post] 618
Lochalsh, Ontario, Canada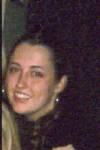 | | |
| --- | --- |
| 0 posted 08-11-2003 02:28 PM | |
---
To My Beloved
Reflections of the moon grows brighter,
the sounds of waves grows fiegnter,
the outline of moonlight surrounds you,
Sand in and out of everywere that is dear to you,
the sound of another pleases you,
Water streches to each of your feet,
Cold however, you remain relaxed,
the other comforts you further,
The Waves crash against the unoccupied beach,
save it be for two insanely in love beings,
One of the female gender,
the other male,
hailing from different countries,
nothing seperates the pair,
not even the coldness of death would realease them,
He brushes her beautiful body with his fingertips,
gently whispering into her ear,
speaking of his endless love for her,
they embrace in the way of passion,
she holds him tightly,
caressing every inch of his body,
For she knows his stay will not be long,
yet plans of the future may sway,
they wish just once for,
another touch,
another word,
another day,
and...
another sight,
Away one must go,
however which might it be?
male or female?
undesicive the future is,
the two will conference,
however...
next time,
not in thier dreams.