Kaoru




Member Elite
since 06-07-2003
Posts 3888
where the wild flowers grow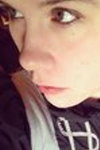 | | |
| --- | --- |
| 0 posted 06-12-2003 07:48 PM | |
---
In a house with,
no doors or,
windows.
Four corners, but
no locks, or gaurds..
No way in, yet
no way out.
Unless, persuasion is the key,
though,
no locks are there,
to open it.

In a house,
I lie restless.
No thrills to be sought after.
No love, hate,
pain nor sadness or,
anger.

I yearn to crawl under your skin,
begging for a way,
out and then again, in.
Place my tongue upon your heart, to see,
what is it you've been feeling
lately.
Lightly caress your veins,
feel the pulse of your pain..

We were both caught up..
in our own illusions..
we were both caught up..
in our seclusion..
And perhaps with a little,
persuasion..
I could open you up from the inside,
and see
everything you've hidden..

This is not
going to stop me,
no walls are
going to keep me from...

getting locked inside..
getting held captive by...
getting warmed by..
locked in an embrace with..

You are my illusion,
my seclusion..
Sweet, bitter,
persuasion..

This house does not exsist.