Ron
Administrator
Member Rara Avis
since 05-19-99
Posts 9708
Michigan, US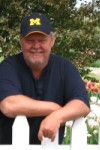 | | |
| --- | --- |
| 0 posted 06-05-99 02:27 PM | |
---
The well known haiku, as well as the lesser known senryu, classically follow a very rigid format: three lines, composed of 5-7-5 syllables. Since Alicat has written the ideal example, I will humbly bow to his expertise:



Three lines haikus have
Counting off each syllable
Five, seven, and five



Pretty simple, hm? But (as always, it seems), that's only part of the story. The original Japanese definitions are a bit more stringent. Technically, a haiku must refer to a season (though it can be very indirect); otherwise it is a senryu. Here's an Americanized version of a haiku by Buson (eighteenth century):



Cherry blossoms drop
onto placid blue waters:
stars on the ripples.



See the reference, albeit indirect, to a specific season? Ah, but there is more - much, much more...

Philosophically, the haiku and senryu gain their real strength from Zen Buddihism. They are meant to juxtapose seemingly unrelated observations, in order to glimpse the hidden connection between things. Relying on mood and suggestiveness, the perfect haiku should bring a bright moment of illumination to the reader, a sigh of, "of course!" as the reader discovers hidden but simple truths. Read the haiku by Buson again. Look for the juxtapositions and the connections between unrelated things. See what I mean? (The translation above is my bastardization of a true classic, and I take full responsibility. The original is much better.)

Okay, enough lecture. Here's my question to you:

I think the philosophy of the haiku, as a specific Zen-like way of thinking, is its true strength. I think that "moment of illumination" is at once the hardest thing to accomplish and the most important. In fact, I'll carry that even farther, and say that I think it is the only thing that's important. I think the stringent 5-7-5, three-lines-only-please format is antiquated and no more than a poetic preference. I think that we have Westernized the haiku into near oblivion, losing sight of its true beauty; we have made them easy by following the format, at the cost of losing the Truth.

Now - what do you think...


§;-)

Ron

[This message has been edited by rcarnell (edited 06-05-99).]


[Note: This message has been edited by Nan]