Kaoru




Member Elite
since 06-07-2003
Posts 3888
where the wild flowers grow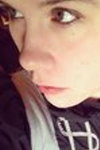 | | |
| --- | --- |
| 0 posted 06-09-2003 03:27 AM | |
---
(Note: This poem is rather old)

I remember,
when you left your toothbrush here.
Dark blue,
rustled bristles.
A clear coat swirled in the middle.

I would look at it, somedays.
Wonder what it'd be like
to use it.
If the bristles would seem worn with your mouth.
Taste of whiskey, or cigarettes...
like you always tasted...

Your skin was also
never smooth, like
the alcohol that poured down..
your bones pertruded through it like a sheet...
and you were never quite so
plush, or pillow like.

You never knew the correct answers,
There were always holes in your,
information.
As if paranoia,
had swept out all truth to the things you'd said.

I remember this,
and think of,
the blue stains your hair would leave on my
pillows..
How lacking in true colour they were.

I approached this love
too soon.
Still staring at your toothbrush left here,
invisioning the times I said no.
Dark blue,
like everything in this world..
Enveloped in curiousity.

You've stolen all feeling inside.
And perhaps, maybe..
It was all to save your pride.

Your dark blue toothbrush,
now stuffed into your bag..
along with pictures,
and memories that I fought for.
It's rounded bristles..
I never used...

For the fear of ever,
tasting you.