Sunshine
Administrator
Member Caelestus
since 06-25-99
Posts 67715
Listening to every heart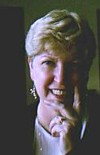 | | |
| --- | --- |
| 0 posted 02-13-2003 09:22 PM | |
---
Konrad's Odyssey - I

Two days later, his migraine
having subsided like sand under waves,
remnants of the brain's holocaust now
carried back to it's deepest ocean
it would lay low, long
before it would hurl it's torrent at him
again.

He rose, feeling grimier than the sheets beneath him,
headed for the green-tiled shower, and stood under
water so cold, until it turned lukewarm, then
grabbed up a scummy soap bar, nailing
it into his skin,

thankful the migraine was gone, almost eager
to continue his trip.

His mind raced ahead,
as by now, Travis should be there. He had
run across his old friend
back in that hole-in-the-wall
eatery, there in the desert, still driving
that dad-burned truck, thinking,

didn't they all push
along the damnedest pieces of
sheet steel hooked
up to mechanized horse hooves

all of 'em.

Jake, he drove the best
of the worst…

Iambe, she fixed all the losers,

Dillon…she rode along in the best….

He had counted on Travis to carry news to Iambe
that Konrad would be coming;
he had done his best to locate Dillon, and Jake,
by the long-suffering Western Union,

"Be at Iambe's. Stop.
Konrad."

Jake, he probably spat on the 'gram,
Dillon…if she could be found at the last known,
would probably know.

She was like that, that girl. Intuitive.

That girl.

Dana…

Dana had been long ago, the only true haven
Konrad had ever known.

Would probably ever know.

The luke turned to cold, so he stepped out,
no mirror to look in to,
never mind,
he didn't need to see the scars,
nor heed the reminders…

he had the certificate for that.

~*~

Iambe studied Travis, then looked beyond him,
and Travis decided, silently, to
"damn Konrad anyway," then sipped on his bitter coffee.

Travis did not need to be here,
Iambe was too close, and too far away,

once again, he felt helpless, loose, losing, long gone,
as he saw the bitter begin to crease her lips,
the tight pull drawing the red to a pink,
and she had looked so good
when she first opened the door. Now, she was beginning
to shell again,

that shell that he had seen crack, some times,
when the moon was right,
and the liquor, smooth,

but not now.

~*~

Jake stood in the water, tanned, dark,
gleaming like snake skin, dripping off the
remnants of his last dive,
then pulled out the wet, soggy 'gram,
throwing it to the bank.

He walked up to the bush holding his jeans,
pulled them on over his wet, tanned legs,
and cinched the buckle,
a worn, faded, Rodeo winning buckle from some
30 years ago,
muttered something about
"damn K"

and climbed into his worse-for-wear truck.

He headed
toward Iambe's.

~*~

Dillon's hair was as red
as the clay they had grown up in,
herself, Iambe, Jake,
and Konrad,

her restaurant wit and skill
borne from somewhere
gave her verve and nerve, the shy of her
having faded long ago
in that trip she took
when she had skipped toward them,

them that weren't daddy.

Now, the pensive lines crossed her brow,
she tucked her fingers into her
cotton skirt's pocket,
as if she could feel the ink press into her skin,

then she stiffened visibly,
her spine tingling,
walked over to her day manager,
whispering,

"Damn it, I have to leave for awhile,"

then grabbed up her leather vest,
slipped her arms through worn holes,

walked into a sun that saw a blaze
of fire from yesterday's fright,

and headed, towards Iambe's.

~*~

Iambe.
Jake.
Dillon.
Konrad.

Apache Tears.