Sunshine
Administrator
Member Caelestus
since 06-25-99
Posts 67715
Listening to every heart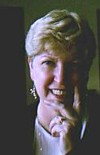 | | |
| --- | --- |
| 0 posted 02-12-2003 06:53 AM | |
---

Konrad's Search

Sour mash quelled uneasy,
it had been a while
since he had not cared,
now he was caring not to trip
until he could get
to the bowl of heaven.

Cold tiles and curved porcelain sides
felt welcome
as he heaved last night's sorry state
into [thankfully] clear water

and he slowly flushed
his muddy stomach along with
his scrambled brains.

He stayed a moment on the tiles,
the cold seeping up through his hips,
his back against the wall,
his hand to his forehead,
trying to hold in the pain,

knowing that the migraine would come
and laugh at him, vengeful after
his attempted escape into the liquid gold…

the pounding in his ears had the
footsteps of Jake,
his heart thumped along with
Iambe's fist against his chest,
and his limbs trembled like Dillon's had,
as a child in watch, and wait,
and run
mode.

By now, the certificate had been folded,
unfolded, refolded, creased, tucked into
and taken back out who knew
how many times from his
breast pocket

and was beginning to bear the wear and
tear and tears, as even memory's salt
bore into the wounds and reopened
the old scars

but his decision was firming up,
and he began his search
for matches.

He damned himself
for having given up
cigarettes.