jjote
Member
since 12-25-2002
Posts 431
Canadian resident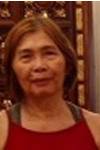 | | |
| --- | --- |
| 0 posted 03-11-2007 06:35 AM | |
---


Do you wake up in the middle of the night,
Expecting to hear His voice call for you
to get up and follow where He leads you.
But hearing nothing, you return to sleep in sadness.

Morning comes, yet nowhere is He beside you
nor does He sit on your doorsteps,
or outside in the garden, so you can hold His hand
to guide you through the pathways of your life.

Disappointed, you cover your eyes to hold back the tears.
You search the crowd in the streets looking for Him,
you feel an emptiness wandering aimlessly.
He does not show His face to comfort you.

But stop; are you looking for Him in unfamiliar places?
Are you listening to the right sound of His voice?
You need not see Him to know He is there –
You need not touch Him to feel His loving care.

You only have to look up to a clear blue sky,
listen to the soothing waves rock the shore,
turn your face to the sun to warm you,
let the tiny drops of rain refresh you.

He is there – walking with you, matching your footsteps,
whispering to you as a gentle breeze wafts by.
You see His face in the upturned smile of a child,
His presence fills the vast expanse of the universe.

God's touch is in all good things.
the promise of a rainbow after a storm,
the dawning of a new day after night sheds its gloom..
Believe that He will be with you, as He has promised.