Dennis L. White
Senior Member
since 02-17-2000
Posts 1464
Michigan, U.S.A.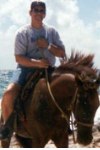 | | |
| --- | --- |
| 0 posted 07-10-2006 08:02 PM | |
---
Some say Peace
is the absence
of trouble and strife

Some say Peace
is blue skies
and sunshine

Some say Peace
is the absence
of wars

Some say Peace
is no stress
and trials

~ ~ ~

But I say
In the middle of
trouble, there is Peace

On the darkest night
during a storm
there is Peace

Though the nations
war against each other
there is Peace

In stressful times
when mettle is tested
there is Peace


Peace comes from:

Knowing God,(Psalm 46:10)
Knowing you are loved, (John 3:16)
Knowing where you came from,(Genesis 1:26-27)
Knowing where you are going,(John 14:1-3)
Knowing forgiveness (Romans 4:7-8)
Knowing you are not alone,(Hebrews 13:5-6)
Knowing all things work together for good (Romans 8:28)
Knowing Jesus (John 10:7-16)

Belonging to Jesus the Lord, you will experience the Peace that passes all understanding. (Phil. 4:7)

This is True Peace


...........................................

Philipians 4:7And the peace of God, which passeth all understanding, shall keep your hearts and minds through Christ Jesus.
(The Bible,King James Version)

May God bless you with a knowledge of True Peace.