ambermize
Member
since 04-21-2001
Posts 156
California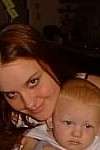 | | |
| --- | --- |
| 0 posted 06-26-2002 02:25 AM | |
---


If tomorrow......

If tomorrow I shall not wake,
Kiss my son in my names sake,
Hold him deep inside your arms,
And teach him all the worldly charms,
that one day he will master.

If tomorrow I am lost agian,
Take my soul and hold it when,
All the pain will break you down,
And mornings silence is all to loud,
calm yourself inside me.

If tomorrow destiny takes the chance,
Take my heart within this dance,
Place your fear within my mind,
And let me be there for you this time,
for every favor you've done me.

If tomorrow I can not speak,
Feel the passion that made me weak,
Let me sing in midnights song,
As I right all that is wrong,
in happiness we thrive.

If tomorrow you forget the way,
Don't let your grief lead you astray,
From finding me where I have always been,
Inside the heart of my deepest friend,
that's loved me since my birth.

(yes this is to my sissy.....suprised ya didn't I?)
Love you tanya..........I miss you sooo much!!