Falling rain




Member Elite
since 01-31-2008
Posts 2165
Small town, Illinois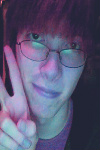 ---
ok this is a spin off of the challenge that Asassin posted but mines a little different.
Same rules aply here as it did before. it has to have the phrase "Love like winter". its pretty simple and its just something for you guys to write about.
Have fun guys!!<!signature-->

XxZachXx

"What did you think I ment?"

haha yes im sort of crazy deep down inside. lol!!