Earth Angel
Member Empyrean
since 08-27-2002
Posts 40647
Realms of Light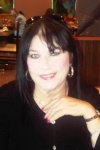 ---
The challenge that I propose is the following: Write your vision of what our world could be like 50 years from now. Could you be the next George Orwell?--or perhaps a seer like Nostradamus?

...I am sure there would be varying visions for mankind's future and for that of our planetary home...some happy--and some not so happy....some great...and some not so great...
You could post your "prophetic" piece in Open #25 and next to the title please write in brackets: EA's Orwellian Challenge.

If you so desire, you could fantasize about the perfect future world...Dreams can come true, you know...



Peace, Love & Light,
Earth Angel


[This message has been edited by Earth Angel (03-24-2003 07:44 PM).]