BluesSerenade
Member Rara Avis
since 10-23-2001
Posts 9867
By the Seaside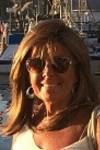 ---

along the shoreline lands
leaving tranquil beads
an instant of felicity
left beside the sea
edged in grains of sands
blowing across the dunes
smooth like a poets hand ~~

~~~~~~~~~~~~~~~~~~
My mind works in strange ways, so consider this my disclaimer~

I was thinking about Felice, a gal I worked with years ago, and one thought led to another....you know how that goes! Anyway I went and looked up the word, "felicity."...I think it fits, not only a poet but their poetry and the feelings one comes away with. I guess I just liked the meaning and that it pertains to the written word.

So that's my challenge, "Felicity" and what you make of it.

Oh I'm feeling so brave, I never did this before!



I regret I haven't been around much, but I never stopped reading!

Life is just beachy!!!