serenity blaze
Member Empyrean
since 02-02-2000
Posts 28839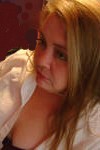 | | |
| --- | --- |
| 0 posted 09-13-2002 09:41 PM | |
---
I jotted these down while listening to my son and daughter converse with their father during a recent short road trip:

"disturbing my warp"

"sub-text messages in a pounding head vein"

"lame-sided tedium"

"insubordinate eyes" (chuckle this was one of those stop looking at me arguments, and when my daughter asked why, my son answered because you have--and thus the quote.)

"born a has-been"

"rubber trouble"

"just enough gristle to breed maggots" (a commentary on a certain girl singer)

"highway rhythms are just like ZEN"

"mental albatross"

"even the sun is glad for the night"

"a chocolate chip cookie tree"

"Understanding--102"

"a pointless #2 lead pencil"

"lockers without locks"

"one droopy sock sucks"

"half-baked rolls in sad red sauce"

"A's on an idiot's curve"

"even safety razors bite"

"they'll beat you up, for being smart"

and last but not least?

"a voice like white noise, cranked to nine

um...have fun, and let's leave the psychology to the ones I will pay the big money to later, eh?