Mysteria








Member Laureate
since 03-07-2001
Posts 19652
British Columbia, Canada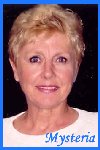 | | |
| --- | --- |
| 0 posted 07-21-2002 02:55 PM | |
---
I was in a bit of a nostalgic mood and posted a start of a series on the 60's and plan to do a whole series of own personal experieces during the 60's, then move to the "Saturday Night Fever" of the 70's (I fizzled out into severe motherhood after that!) LOL. Maybe all of you who were "swinging" during those years care to give it try to tell the younger folks what we did then. We could show how we made our fun on very little money (please keep any reference to substances to a minimum if possible). Think of the possibilities, and won't the memories be fun? Maybe we could do it by eras, starting as early as you want, 30's, 40's, wherever you care to start and take it right up to the current time for the younger generation to take over in Teens, and bridge what is a constant generation gap no matter what time you were born in it seems. This idea came about as Serenity was trying to buy clothes on eBay that I threw out and had worn in the 60's, and I realized yikes, I was being re-cycled!

Communication through poetry now there is a novel idea?

Maybe we could use the term (Era Poetry) after our titles so people would know it relates to the challenge? Just a thought! What say you?<!signature-->

Nothing means more to me than faith,
family and my friends.



Proud Canadian



[This message has been edited by Mysteria (07-21-2002 02:57 PM).]