bsquirrel


Member Rara Avis
since 01-03-2000
Posts 8382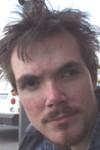 | | |
| --- | --- |
| 0 posted 07-18-2002 12:13 PM | |
---
Somethin' to be posted in Dark 3, obviously.

I was talking to Jessica last night, and she came up with the phrase "Blood and rainbows."

So, ah'd like to see poems using that phrase or that idealogy somewhere.

HOWEVER -- no violent poems. No poems about murder, or self-harm, or suicide, or anything like that.

Blood is not just violent, y'know.

It's what pumps through our bodies. It's what we feel pressing inside us when we're feelin' heightened emotions.

And by supplyin' an exchange of oxygen to our lungs, heart and brain, it's what keeps us alive.

So that's the challenge. To write a poem incorporating blood and rainbows that is not violent or loathing.

Good luck.

I'll post too, when I have a free moment.

Mike<!signature-->

She said burn ... together.
-TON



[This message has been edited by bsquirrel (07-18-2002 12:16 PM).]