Anvrill
Senior Member
since 06-21-2002
Posts 718
in the interzone now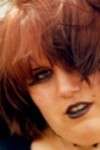 | | |
| --- | --- |
| 0 posted 06-23-2002 04:34 PM | |
---
I've noticed many times in my life that people have this certain preconception upon hearing the word "goth". Now.... I, having been labelled goth by these people who think these strange things, don't quite understand how *I* got shunted under that label. Or any label! But I have come to live with it and grow quite the sense of humor about it. I even make fun of gothlings and sophisti-goths on a regular basis. If you can't mock yourself, what can y' do?

Anyway, I have a challenge for ANYONE who can write. You don't hafta know a thing about goth. Because this a challenge to write BAD goth poetry, after all. It's something you always hear about; the mopey teen with black, flouncy clothing writing terrible poetry to his/her/itself about how flippin' dreary his/her/it's life is.

I've found that these poems are fun to write. When you're being silly about it. And I have a few simple guidelines to follow!

Number one, please post any resulting poems under Dark (Dark wants more posts, anyway! And I'm not just saying this because I'm dating the morbid rodent moderator!). Number two, follow these ten simple steps to write a bad goth poem. And number three, check out my example in Dark in case y' still don't get it.



So, the steps:



Use the word dreary. Often.

Use the word embrace! Y'know you wanna'. The embrace of the vampire, the embrace of death, the embrace of this and that and the other thing.

Moan about your isolation. You have no friends, admit it! Even your friends are only fakes because no one can understand the pain inside you, and oh woe is me.

Gripe about an unrequited love. The one you could never have but cannot live without. Oh, death to me, who cannot be with the one who should fill my eternity.

Huh, on that note, melodramatic rhymes are pretty well damning. So rhyme away! Have at it!

Remember, kids, eternity is your catch-word. Not just once a poem, no. Every other line, if at all possible. Because, remember, your pain is boundless and forever. You are the damned, walking the earth.

No mentioning flowers! Bad! Not even venus fly traps, they're still plants, and that's a bad thing; it's part of the natural world and you are, of course, oh so unnatural.

You must, and I repeat MUST, mention death at least once. As your lover, friend, enemy, as you yourself, who cares? Just mention it!

Did I mention how important dreary is? Dreary, dreary, dreary.

Make H.P. Lovecraft proud; talk about Cthulu or dark magic. Pwease?


With that in hand... Go off and read my example in Dark, then post yr own in Dark! And have fun!<!signature-->

Feel my angsty reachiness!

[This message has been edited by Anvrill (06-23-2002 04:58 PM).]