Ladycat






Senior Member
since 07-05-99
Posts 809
At the edge and a doorway,TX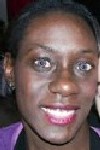 ---
Awhile back, I made a challenge for the Ladies to write about the wonderful men of Passions and they did an exquiste job might I add. Not too long after that I think Wilfred came up with the same challenge for the men, but none of them replied. How about we try this again?
Guys we like applause too. Do you think you are man enough to stand up and write about some of these Ladies who have graced our screens with words of gold?

Give it a try. I know that I sure would love to see it.

Love,
Lady
<!signature-->

Live in my world just once and you'll find yourself enraptured.