Dusk Treader
Moderator
Senior Member
since 06-18-99
Posts 1231
St. Paul, MN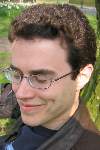 ---
Well, hello there all you passionate writers! The new challenge me and my fellow moderators have decided on is to write about your favorite author/writer/poet. You can do this however you'd like: just try to keep it fun and interesting! Don't be afraid to be creative!

Another idea (and this one earns bonus points with me) is to introduce the members of this forum to the world of that author. Show us some scenery that you like or even base a story in that world. Just tell us your author and be creative!
<!signature-->

Abrahm Simons

"Flew too high and burnt the wing
Lost my faith in everything" - Trent Reznor, "Somewhat Damaged"