ambermize
Member
since 04-21-2001
Posts 155
California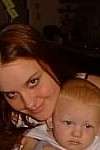 | | |
| --- | --- |
| 0 posted 06-02-2002 08:47 PM | |
---

It is like a kindred spirit,
The pain that I've collected,
A gaurdian to my soul,
That now will stand protected.

It is like an agonizing torture,
The tears you've made me cry,
Still such an empty space they fill,
So I hold them all inside.

It is like an amazing creature,
These memories that I keep,
Tearing at me, drowning out,
All the precious words you speak.

It is like a gifted angel,
Bestowed upon me here,
To teach me all the wisdom,
That instills in me, this fear.

It is like a taunting presence,
This hold you have on me,
Deceit, and utter ignorance,
Blinded by you, now I see.

It was like a distant calling,
I heard throughout the night,
You left.. and I let you,
My heart chose not to fight.

It was like a shattered laughter,
That danced inside my soul,
The day that I could realize,
That you don't make me whole.

It was like a pleasant calm,
That washed over my life,
As I take in all the beauty,
That you stole from my life.

[This message has been edited by ambermize (06-02-2002 09:34 PM).]