Local Rebel
Member Ascendant
since 12-21-1999
Posts 5742
Southern Abstentia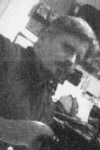 | | |
| --- | --- |
| 0 posted 08-17-2004 01:10 AM | |
---
Keep getting pinged tonite with a Newtear attack from somewhere in the Pacrim... ??? Couldn't trace it the last time.

I thought Newtear was a 95/NT attack -- I'm running 98 -- is there a new strain?

McAfee Firewall is intercepting it just fine.. but.. still...

anybody know of any new trojans or viruses that might be related? Spybot S&D, Adaware, McAfee Viruscan, System Mechanic -- all can't find anything...

Except Spybot which has been giving me an 'Avenue A' warning on Pip ads and Yahoo ads too ever since I downloaded the latest defs...

CPU has been acting like it's getting hit with denial of service... but I'm not sure why -- I opened up the BIOS communication to let my new version of Compuserve try to optimize its install -- but I just turned that back off and I'm still getting pinged...

OW!