Kit McCallum
Administrator
Member Laureate
since 04-30-2000
Posts 16920
Ontario, Canada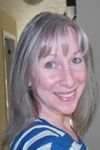 ---
I thought I'd post this link here. I prepared some helptext for my nephews and my mom a while back that walks you through everything in setting up a personal web page using Netscape Composer.

If you have Netscape or download netscape, the Netscape Composer is a great tool to help you create your own personal web page from scratch. I prepared the helptext from my family's point of view ... starting from the beginning. It also assists in how to upload at the end to a geocities account.

I never thought to post this here until now, but I've spent a bit of time with my 12 year old nephew today, and he's doing great.

Please feel free to use it if you'd like to understand some of the basic concepts of setting up a web page using Netscape's composer, from formatting to other things like tables, graphics, links and targets.

Here's the link to the tutorial ... just follow it from the beginning, and you should do fine ...
http://www.geocities.com/kwmccallum/tutorial_index.html

Anyway, hopefully it may help those a little leary of getting started ... good luck, hope it may help some beyond my family circle.

[This message has been edited by Kit McCallum (edited 06-09-2001).]