Sunshine
Administrator
Member Caelestus
since 06-25-99
Posts 67715
Listening to every heart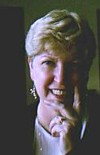 | | |
| --- | --- |
| 0 posted 02-27-2003 08:24 PM | |
---

Snaking Recalled

He didn't hate "them"…
it was just sometimes,
sometimes,
"they" were worse than any
three day mind-grain
[as Jake used to call them]
could ever be.

It use to spook the calmest of
his kin folk,
and he never told any of his few friends
of this so called "power"
as Konrad was never sure when
the next time would come,

but they snaked in
as he best could recall,
with no warning,
no heads up,
butting his emotions
up to the wall
that he could never climb over

and stood in haunt of lost
spaces, myriad faces,
uncommon places

leaving him feeling
like a rubber band that had
been deja viewed.

Usually images came,
dangled like teardrops
in front of a mirror,

heavy bottomed crystals
he could see in,
through,
out the other side,
upside down…

what is stranger than feeling like
Alice on the backside of the mirror…

So Belize waited,
and Konrad waited

because his ghosts would
turn human, tap him on
his shoulder,
and remind him that he was not alone…

and far from home.